26-years old Meg Chambers Steedle is a red-head from North Carolina and was a high-school cheerleader. From conservative background. A trained dancer. She possess the perfect curves to play an actress of 1920's decade. And she will be displaying her pair of pink berries in season premiere of Boardwalk Empire:

Season 3, Episode 1 this Sunday.
It will be her first nude scene ever on-cam. Quite a leap from her
Disneyque-like

stage plays and musicals.
Her facebook and resume and twitter and her old blog.

She is playing the role of Billie Kent (originally named Ivy Wells).
[IVY WELLS] Caucasian, Early-mid 20's, beautiful, sexy, smart, vivacious, and sassy showgirl. A woman with an air of mystery who all men fall in love with, but who also always leaves them wanting more. Must be comfortable with nudity and possible sexual situations. Recurring.

With Paz de la Huerta gone from Boardwalk Empire, the nudity gap will be taken over by relative newcomer and stage actress Meg (Chambers) Steedle. Steedle will play a Broadway actress named Billie Kent (a charming broadway actress that outshines the star and is capable of breaking your heart) who becomes involved with Steve Buscemi's Nucky.
Meg well could be running for best nude debutant award of 2012 i

f she can match the freakish Huerta in sex and nude scenes.
Meg Steedle steals the show on 'Boardwalk Empire'
NEW YORK
— For the first two seasons of "Boardwalk Empire," romance was elusive for Enoch "Nucky" Thompson.
He rules Atlantic City, N.J., as its city father, major-domo mobster and, with this HBO drama set in Prohibition days, its reigning bootlegger.
But never mind all that. Nucky (played by unlikely leading man Steve Buscemi) wants love.
By now his overwrought mistress Lucy Danziger is history. His marriage to social climber Margaret Schroeder is over in every way but keeping up appearances.
How nice for Nucky that as Season 3 begins, he has lost his heart (or a reasonable facsimile) to Broadway chorine Billie Kent. And how nice, too, for viewers, who will surely fall for the actress who plays her, a budding It Girl named Meg Chambers Steedle.
Airing Sunday at 9 p.m. EDT, "Boardwalk" picks up the action on Dec. 31, 1922, as Nucky and Margaret host a rousing New Year's gala. The entertainment: famed Broadway musical star Eddie Cantor teaming up with his slinky song-and-dance sidekick, Billie, who perform a fanciful number, "Old King Tut," for the ballroom full of revelers.
It's the viewers' first brush with Billie, but not the last. In the wee hours after the party, Nucky is seen ditching Margaret at home to rejoin Billie, who, stripped to her drawers, awaits him in bed at his boardwalk suite
.
"This is the only place I can truly rest my head," says Nucky, resting his head in her lap.
She smiles. Then she playfully warns, "You aren't resting NOW," before climbing astride him.
This is Nucky as we've never seen him: the power broker as a lovestruck swain.
But who can blame him?
"Billie is really a breath of fresh air for him," says Terence Winter, the creator of "Boardwalk" and one of its executive producers. "She represents the whole idea of the youth culture that took over the 1920s — half-bohemian, half-adventurer, and out to have a good time."
"How the writers described Billie to me was, 'The second girl from the left,'" Steedle says. "She's 'the girl onstage who's not the lead, but the one you can't take your eyes off.' She's fun. She loves the limelight. And she's not where she wants to be: She's moving from the left, trying to get to the center."
It was Winter who wrote this season opener and thus gave birth to Billie. But you can thank Meg Chambers Steedle for giving her life.
A 2008 graduate of Northwestern University's School of Communications, the North Carolina native found quick success in regional theater.
Meanwhile, "Boardwalk Empire" was on her radar: "I grew up loving the Jersey shore and I love period dramas. I thought, 'This show's right up my alley.'"
Then, happily, she was called in to audition. Time passed. She got a call back. More time passed.
"We had her in to read a few times for the role," says Winter, "but the role was sort of a tall order. We wanted somebody who was beautiful, who could sing and dance, and who brought a young, fresh, different type of energy. Meg was the complete package."
In discussing her, Winter reels off glowing adjectives: calm and sweet and funny; magnetic and charming; bubbly and disarmingly adorable.
During a recent interview, Steedle bears him out.
Willowy at 5-feet-8, with luminescent brown eyes and a bright smile befitting the daughter of two dentists, she is buoyant and animated, with a hearty laugh and arms flung expressively about her as she speaks.
But despite her inherent appeal, her film experience was limited. She landed her first on-camera role only last year, on ABC's crime drama "Body of Proof" (playing a student athlete who murdered a fellow member of her lacrosse team).
Winter wasn't troubled by her absence of film chops.
"Sometimes you see actors fall apart during the audition process when they know they're getting closer to landing the role. But Meg got better and more comfortable as she went along," he says. "She was unflappable, you could just tell. And she turned out to be a joy to work with."
But the process of choosing her had taken awhile. By the time she arrived on the set, the cast had done the season's first read-through without her, she says. "I was so last-minute that I learned the 'King Tut' dance the day before we shot it."
That 1920s-vintage ditty (not to be confused with the Steve Martin hit a half-century later) makes sport of the Egyptian boy king in lyrics like, "His tomb, instead of tears, was full of souvenirs" with "gold and silverware ... from hotels of ev'ry land and clime."
Performing with Stephen DeRosa, seen before on "Boardwalk" as real-life entertainer Cantor, the number is a comic showstopper.
"Thank God I got to do that scene first!" says Steedle. "I had fun, and got to sing and dance and interact with so many members of the cast. It was a big part of my loosening up."
As for the bedroom scene, which she shot next, that, too, served as its own initiation.

Her waist-up nudity "was a big thing for me. This is only my second (film) gig and I was really hesitant to show in that way," she says, choosing her words carefully.

She was also recalling Lucy, Nucky's voluptuous ex-courtesan played by Paz de la Huerta, who "was naked all the time. I think that was an image I had in my head. But that's not who my character is.

"Besides, this is part of storytelling: Clothes come off," she reasons. "But Steve is such a pro. It was a professional setting, even in a room with guys (in the crew). I felt comfortable."

Before accepting the role, she did place a cautionary phone call to her parents.

"They knew it would happen," she says, meaning on-camera nudity, and smiles. "I just don't think they expected it so soon."
Of course, it was Steedle's parents who steered her into acting.
She describes herself in childhood as "an attention-seeker," even to a fault, "and they decided, 'We need to find her the right outlet.' So they made me audition for a high school production of 'The Sound of Music.'"
Cast as one of the von Trapp children, there she was, in third grade, "hanging with the high school kids. I loved it!"
Now she hangs with the "Boardwalk" troupe, and she's poised to make a splash. Like Billie, she's not in the center, not just yet. But Steedle is the girl your eyes can't let go.
Congrats to our Two River Theater Co. alumnus Meg Steedle (shown here as Corie in our 2010 production of Neil Simon's "Barefoot in the Park") on being announced to join the cast of HBO's Boardwalk Empire! She will be portraying a showgirl named Billy Kent. BRAVO! (You can read more about it in the next issue of NYLON Magazine).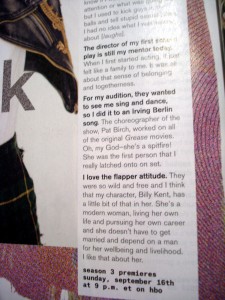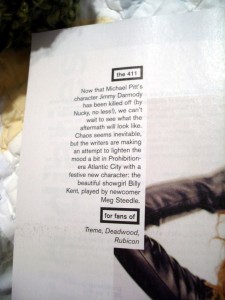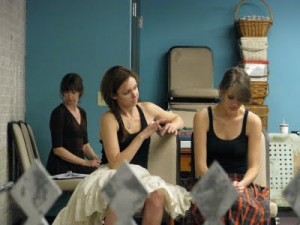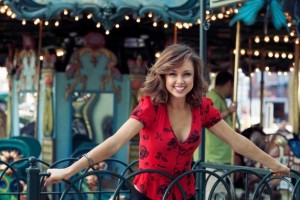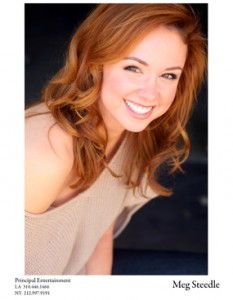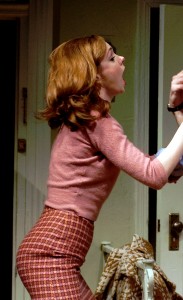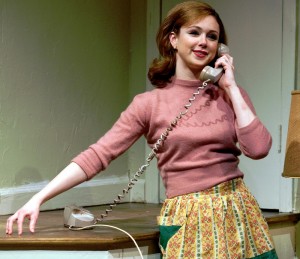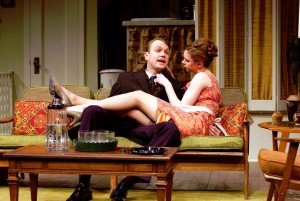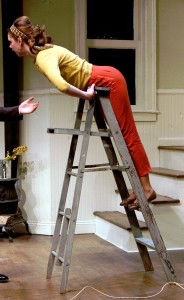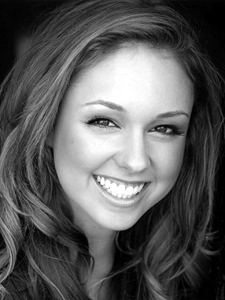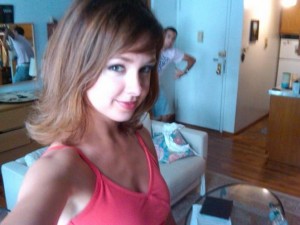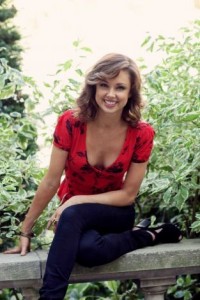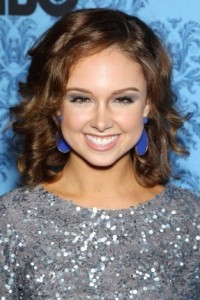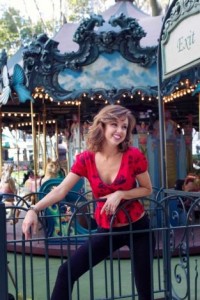 More pics of Meg here and here
Northwestern grad gets big break on 'Boardwalk'
Meg Chambers Steedle's route to "Boardwalk Empire" started in Evanston, where she graduated from Northwestern in 2008 with a degree in theater arts.
Steedle credits that training, which included singing and dancing, with helping her land the plum role of Broadway showgirl Billie Kent.
One of the new faces this season on "Boardwalk," Billie is a freewheeling flapper who steals Nucky's heart — and just about every scene she's in.
"When I was a senior I thought I really wanted to work in TV, so I started taking the L into the heart of Chicago for my first TV lessons at Act One Studios," said Steedle, who lives in New York City's Upper West Side but misses "the best apartment of my life in Evanston." She's headed back to Chicago for a Tuesday screening of a "Boardwalk" episode at Tommy Gun's Garage. (The event has reached capacity.)
Steedle's prior TV experience consists of one episode of "Body of Proof." This new role is by far her biggest break, and it comes on a series she longed to be a part of.
"My grandparents have a beach house in South Jersey, so Atlantic City is very familiar to me," she said. "And it's a period drama, which is my favorite kind of television show."
Viewers will get to see a lot of Steedle; she bares all in the season opener — something her parents didn't know before they went to choir practice and broke the news about their daughter's new gig.

"My mom just flipped," Steedle said, "because they'd told all of the choir and it was already buzzing around the church."
Meg Chambers Steedle
The Heir Apparent
(Isabelle)
Shakespeare Theatre Company
The Lansburgh Theatre
Washington, DC
September 6 – October 23, 2011
A Fox on the Fairway
(Louise)
Signature Theatre
Signature Theatre MAX Theatre
Arlington, VA
October 12 – November 14, 2010
The Morning After / The Night Before
(performer)
part of: The 14th Annual New York International Fringe Festival (FringeNYC 2010)
Lucille Lortel Theatre
New York, NY
August 18 – 28, 2010
Barefoot in the Park
(Corie Bratter)
Two River Theater Company
Two River Theater Company Joan and Robert Rechnitz Theater
Red Bank, NJ
February 9 – 28, 2010
A Year With Frog and Toad
(Turtle/Bird)
Two River Theater Company
Two River Theater Company
Red Bank, NJ
December 9, 2008 – January 11, 2009
credited as:
Meg Steedle
Meg had a good foundation in stage performance via musical theater. Her early participation is very PG.
(hard to find her earlier Christian-themed plays on the web. Her parents were pushing Meg in that direction...)
Life's A Beach
Asphalt Beach premieres at NU
by Mark Shpizner
Published: Thursday, November 2, 2006
Emotionally repressed teens, neurotic soccer moms and latently homosexual authority figures pranced across the stage as Andrew Lippa's new musical, Asphalt Beach, had its inaugural performance at the Josephine Louis Theater on Oct. 27.
Asphalt Beach is the third work to debut in the American Musical Theatre Project, a Northwestern initiative dedicated to enhancing the vitality of American musical theater through the production of brand-new shows by America's leading playwrights and composers. Lippa has won many awards, including Outer Critics Circle and Drama Desk awards for his off-Broadway musical The Wild Party. He also garnered a Grammy nomination for his musical contributions to You're a Good Man, Charlie Brown.
The cunning hilarity of Asphalt Beach transpires at Our Lady of Suppressed Desire Academy for Rambunctious Young Girls in the fictitious Asphalt Beach, N.J. Baby Manicotti, the foolhardy queen bee of Our Lady's troubled youth, designs "scathingly brilliant" schemes that terrorize the faculty. Her frequent target is Sister Severia, the evil dictatress of Our Lady, who rules with an iron fist.
But Baby's reign at Our Lady ends the moment the affluent and ditzy Sissy Loftenhoffer enters the scene. Daughter to a hypochondriac mother who virtually owns the state of New Jersey, Sissy has never been allowed to make friends (they might corrupt Sissy's tender soul). But Sissy has a few surprises in store that threaten Baby's social command and eventually enlighten Baby that family is created, not simply inherited.
Asphalt Beach strays from a strict identification with Christianity in favor of a touching critique of a society whose idiosyncratic members desperately seek to fit in.
"Although there's a heavy focus on Christianity, there's nothing really mean-spirited or condemning about the show," Lippa says. "It's about the marginalization of these characters, who are so desperate just to belong to something."
Baby (Carly Jibson) is a boisterous, high-belting diva whose brash faux-Brooklyn personality brings to mind Tai from Clueless. Her loud-mouthed exterior is eventually eclipsed by a tender interior with which audience members can sympathize.
Sissy (Communication senior Nancy Braun) is a shrill, WASP debutante who gives a performance you'd expect from Kristin Chenoweth. Though her prissy tone occasionally lets out a painful screech, she eventually proves to the other characters and to the audience that she possesses the necessary grit to contend with Baby's sass and arrogance.
Sister Severia (Catherine Smitko) retains every nuance of her complex character until a shocking twist at the end. Years of repressed inner turmoil have created a deep two-faced nature in her demeanor that projects ironclad authority to the students and to the press while exposing private insecurity to the audience.
Baby's eccentric sidekicks LouAnn and Deb (Communication junior Meg Steedle and senior Margot Rubin) appear vapid and superfluous. By the end, their ingenuousness inspires Baby to keep hold of her self-confidence.
"My interaction with the Northwestern students has been really great," Lippa says. "Not only have they got talent; they're smart: They understand the comedy of this piece and how to play it."
Meg's winning a role on a HBO show haven't gone unnoticed at her former high-school Greensboro Day School, North Carolina :
http://m.facebook.com/GDSBengals?ref=stream&refid=17&_ft_=fbid.281588221952316
(No. There will be no special screening for her former teachers the next day. Meg is not the first alumna to appear naked in-screen. There been at least couple of more from the school who went on to do hardcore porn.)
GDS is extremely proud of its old grads (except for the ones who makes a living fucking on-cam) :
US Director Letter: Sept. 17
Posted 09/17/2009
The GDS Upper School will host a Service Learning and Club Fair on Thursday, September 24 from 12:15 pm- 1:00 pm in the Alumni Gym during Activities Period. The program is open to all Upper School students in grades 9-12; so please encourage your students to take advantage of one or more of the opportunities they will be exposed to on that day.
Meg Steedle, a GDS Thespian from the class of 2002, who went on to study theatre at Northwestern University and is now a professional actress in NYC, is currently in Greensboro performing the role of "Madge" in Picnic at Triad Stage. Thursday night (Sept. 17) is GDS Night at Triad Stage, and there will be a "Talkback" with the cast after the performance.
Here are some reviews of Meg performance in theater world (Two River Theater Company, New Jersey)
[1] Neil Simon's Barefoot in the Park
Meg Chambers Steedle is pretty as a picture and relentlessly perky as Corie. The endearingly quirky side of this free-spirit wannabe is less evident in her performance, and I missed it.

[2] biased review by Greensboro's Lynn Jessup of William Inge's Picnic
Part of the irony of Picnic is that this story is no picnic, and neither are the lives of the female characters. Elisabeth Ritson as Flo Owens, the matriarch of this tale, perfectly characterizes the lonely, loveless, and bored women Inge so often portrayed. Determined that her beautiful older daughter Madge (Greensboro Day School alum Meg Chambers Steedle) is not going to follow in Flo's own path of choosing the wrong man, Flo encourages a romance with a rich, well-educated, and well-mannered Alan Seymour (Matthew Carlson). Carlson (who is also a playwright) couldn't be more fit for this role of the polished, big-man-on-campus who has fallen for Meg's beauty and intends to make this dime-store sales clerk his bride.
The chemistry between Tippett's Hal and Steedle's Madge is undeniable, and without a doubt one of the reasons this production is so successful. The sparks are so believable that they leave the audience feeling more like voyeurs than theatergoers, especially in a dance scene that raises even the most jaded eyebrow.
[3] A Fox on the Fairway at Signature Theatre
We meet Louise (Meg Steedle), humble waitress in the club, who finds it difficult to hide her emotions from her long time boyfriend, Justin (Aubrey Deeker), who has just been hired by Bingham as his junior assistant giving him the courage to ask Louise to marry him complete with his family heirloom engagement ring.
Our young couple Meg Steedle and Aubrey Deeker ably hold their own with the accomplished, more veteran performers.
Some facts about Meg Steedle :
[1] she was a cheer-leader in high-school.
[2] both her parents are staunch Republicans with strong ties to the local Church and community. They're not expected to watch any of Meg nude scenes (more than few episodes if it doesn't end up on cutting room floor no thanks to the show penchant for blood-letting over-riding any other priorities).
[3] Meg is one of the first victims (if you can call it that) of declining demand in theatre/stage shows (even in Broadway) due to the dire economy. The revenues are down and performers have to find a way to pay the bills if they want to stay in expensive New York. Rookies like Meg have no choice but to do everything in their powers to achieve their dream of becoming a Broadway star. Many of her counterparts who like Meg have worked exclusively in family-oriented musicals and plays will soon appear nude on other cable shows based in NY. Watch out for Showtime's Master of Sex.
[4] Her stage performances so far have been poorly received by the critics. They like her effervescent presence but delivery and singing was average at best.
[5] Meg's nudity will ruffle some feathers back home but at least it's some sort of a progress after playing a corpse in one of her first roles.

[6] We get a satisfying look at Meg's pink nips but will there be glimpse of her rose-colored bushes in future episodes? They filmed a hot sex scene but promised Meg it will be all tasteful and nothing will be shown below the waist. Promises are temporal in Hollywood and a quick view (even longer) is possible.

* This what happens when you sit on a nudity info like I did for months. Thought the show will premiere at end of the month. So I waited and waited like a moron thinking I have all the time in the world. Now I have to post other nudity news quickly as well including on Yvonne in Dexter. But easier said than done with my declining health and other priorities at the moment taking up my time.
___________________________________________________