I contacted a reviewer who was at a special screening of the movie in Toronto recently and he was nice enough to reply to my inquiry...
+++++++++++++++++++++++++++++++++++++++++++++++
27-years old Agnes Bruckner did her first 'nude' scenes in Anna Nicole (TV movie)
The movie felt like one long trailer. Nonetheless entertaining and well-acted especially by Agnes. Hmmmm...probably wrong to use that word considering the whole flick depicts Anna Nicole unlikely rise and expected fall and rapid descent into addictions and personal hell. Typical Lifetime squishy climax. Wishing and hoping they release an extended and unrated DVD version including the pole dancing (topless) segment. It was trimmed for Lifetime broadcast. One scene sees Agnes unclasping her bra and then it cuts away. It should be noted body-double was cast for the sequence that could appear on unrated edition. Agnes was game but she is no dancer. The chick is certified nudity dodger and was utterly uncomfortable flashing her tits and shaking her booty at crowd of strangers.
The Playboy segment was obviously edited to make it PG-palatable. You can hear the jarring sound mix-match when they cut away and it was also cropped. Again a reminder Agnes was fitted with prosthetic tits but hey I take anything at this point. There are couple of sex scenes in there as well.
+++++++++++++++++++++++++++++++++++++++++++++++
Justin Timberlake :

Tunnel Vision
Justin Timberlake kicks off the Fourth of July weekend with a surprise. The pop superstar delivers some fireworks of his own in the NSFW video for "Tunnel Vision," the latest release from his chart-topping album
The 20/20 Experience
.
The racy seven-minute clip features naked women, interpretive dance, and an appearance from Timbaland. J.T. trades his suit and tie for a more casual look as he shows off his fancy footwork.
+++++++++++++++++++++++++++++++++++++++++++++++
Fantasia 2013: Second Wave Titles Announced Including Miike's Shield of Straw, You're Next, Big Ass Spider!, Plus One, Missionary, and More
* flicks with (or possible) nude scenes are highlighted
The full Fantasia 2013 lineup will be announced next Tuesday, July 9th, but in the meantime we have the second wave of titles to share, and per usual, it's a doozy!
From the Press Release:
Following last week's first wave of programming announcements, the Fantasia International Film Festival is proud to unveil several additional highlights to warm you up for our July 9th Press Conference, where we'll be unveiling of our full 120+ film lineup. The festival runs from July 18 to August 6.
OFFICIAL OPENING NIGHT FILM – Takashi Miike's
SHIELD OF STRAW
(North American Premiere)
Hot off its screening in official completion at the Cannes Film Festival, Takashi Miike's riveting crime thriller SHIELD OF STRAW will be kicking off Fantasia's 2013 edition with its first screening on the North American continent. SHIELD OF STRAW stars Takao Osawa, Nanako Matsushima, and Tatsuya Fujiwara. Fantasia's 1997 screening of FUDOH marked the first time that a Miike film had ever been shown in North America, making it all the more joyous to open our 2013 festival with his latest work.
----------------------------------------------------------------------------------------------------------
Extensive Artist Talks with Bryan Singer and Simon Boswell
Fantasia will once again offer audiences the opportunity to participate in illuminating artist talks, expositions, and panels, with a chief highlight being "Rated X - A Night with Bryan Singer"! Here, we'll see the gifted filmmaker behind the X-MEN films, THE USUAL SUSPECTS, JACK THE GIANT SLAYER, VALKYRIE, SUPERMAN RETURNS, PUBLIC ACCESS, and the chilling APT PUPIL, sit down for an extensive hour-long discussion with moderator Tony Timpone and the audience in a special evening of superbeings, superstars, and one superfilmmaker.
"Simon Boswell: A Talk on Film Scoring" brings the brilliant UK composer to the stage with moderator Chris Alexander for a career-spanning talk about his adventures in film scoring for some of genre cinema's most individualistic filmmaking talents, including Alejandro Jodorowsky, Alex de la Iglesia, Dario Argento, Danny Boyle, Michele Soavi, Richard Stanley, Clive Barker, and Lamberto Bava.
----------------------------------------------------------------------------------------------------------
Adam Wingard and Simon Barrett bare it all in Joe Swanberg's 24 EXPOSURES (World Premiere)
Fantasia will unveil the world premiere screening of mumblecore icon Joe Swanberg's recently completed 24 EXPOSURES as part of its Camera Lucida section. The feature stars filmmaker Adam Wingard (who, at 19, premiered his first film, HOME SICK, at Fantasia) and his constant collaborator Simon Barrett, the director/screenwriter duo behind YOU'RE NEXT and A HORRIBLE WAY TO DIE.
Wingard, a gifted cinematographer who also lensed Swanberg's SILVER BULLETS, plays a fetish photographer whose models begin to turn up dead, with Barrett portraying a melancholic cop tasked with investigating him. Swanberg, director of DRINKING BUDDIES and ALEXANDER THE LAST, previously collaborated with Wingard and Barrett on AUTOEROTIC and the anthology horror hit V/H/S. As an actor, Swanberg also collaborated with the filmmakers several times, playing lead roles in A HORRIBLE WAY TO DIE and YOU'RE NEXT.

On a related note, Fantasia 2013 will showcase the Quebec Premiere of Wingard's brilliant YOU'RE NEXT the night before 24 EXPOSURES, offering our audience the rare chance to observe the flipping of an actor/director/screenwriter creative relationship from one night to the next.

Joe Swanberg will host both screenings.
----------------------------------------------------------------------------------------------------------
Quebec Cinema Leads with a Cutting Edge
Recognized by the international film community as having a filmmaking culture that warrants close attention, Québec Cinema will be uniquely celebrated at this year's Fantasia.
[1]
The festival is pleased to be hosting the world premiere of Robert Morin's hotly anticipated
LES 4 SOLDATS
(The Four Soldiers). A key figure of Quebec's independent cinema scene, Morin had made such classics as QUICONQUE MEURT, MEURT À DOULEUR, REQUIEM POUR UN BEAU SANS-CŒUR and the unforgettable YES SIR! MADAME… LES 4 SOLDATS, sees the gifted iconoclast venturing into science-fiction with a post-apocalyptic tale following four people struggling to survive in the wake of a civil war. Morin will host the screening alongside actor Antoine Bertrand (STARBUCK) and other members of the cast and crew.
[2]
Fantasia will also host the world premiere of DISCOPATH, comedian Renaud Gauthier's feature directorial debut, a stylish bilingual period piece pastiche of giallo films set against a backdrop of the '70s disco scenes of New York City and Montreal.
[3]
After an impressive tour on the international festival circuit, including screenings at the Sitges Film Festival, Éric Falardeau's bewildering THANATOMORPHOSE, a paralyzing, Kafkaesque tale of living death, finally comes home to Montreal with its Canadian premiere.
[4]
A Finnish co-production with Quebec's Caramel Films (GOON, STARBUCK, LE MAGASIN DES SUICIDES), Stobe Harju's superb
IMAGINAERUM
(North American Premiere) transports viewers into the neo-gothic universe of metal band Nightwish.
[5]
Finally, Fantasia is proud to collaborate once again with Éléphant - Mémoires du cinéma québécois to present a stunning, digitally restored HD transfer of the late Jean-Claude Lauzon's 1987 masterpiece,
UN ZOO LA NUIT
(Night Zoo), winner of 13 Genie Awards, the jury award for Best Canadian feature at the Montreal World Film Festival and a FIPRESCI award at the Toronto International Film Festival.
And now, our additional Second Wave titles!
[1]
009 RE: CYBORG
Japan - Dir: Kenji Kamiyama
Mechanized mayhem, mysticism and moral ambiguity meet when the influential '60s manga/anime property 009 CYBORG gets a dark, postmodern makeover care of the mighty Production I.G, in the spirit of the iconic GHOST IN THE SHELL films. Anime fans won't want to miss this one. North American Premiere.
[2]
ANIMALS
Spain - Dir: Marçal Forés
Evocative of both DONNIE DARKO and LEOLO with a touch of Charles Burns, ANIMALS taps into a volatile whirlpool of adolescent anxieties and identity issues, addressing complex themes through a wealth of unconventional approaches. A heavy trip, but an entertaining and fantastical one. Winner: Best First Feature, Sant Jordi de Cinematografia 2013, Official Selection: Sitges 2012, Miami International Film Festival 2013. Quebec Premiere.
[3]
ANTISOCIAL
Canada - Dir: Cody Calahan
On New Year's Eve, five university friends find themselves engulfed by a zombie-like attack. The team behind NEVERLOST deliver a gory, inventive, next-generation horror satire with an absolutely genius hook. World Premiere.
[4]
BAD MILO
USA - Dir: Jacob Vaughan
Ken Marino, Gillian Jacobs, and Peter Stormare star in this insane comedy/horror UFO about an office worker's repressed rage manifesting as a mutant ass monster that leaves his body during blackouts, commits murders – then painfully burrows its way back up his butt. Regularly. Ouch! Official Selection: SXSW and Karlovy Vary 2013. Canadian Premiere.
[5]
BIG ASS SPIDER!
USA - Dir: Mike Mendez
A volatile 50-foot spider wreaks havoc against the city of Los Angeles in this fast, funny and surprisingly smart arachno-coaster ride that's not afraid to enjoy itself but at the same time, never goes for the easy stupid. Official Selection: SXSW, Dead by Dawn, Boston Underground, Calgary Underground Film Festival 2013. Quebec Premiere. Hosted by Director Mike Mendez and Producers Patrick Ewald and Travis Stevens.
[6]
BROKEN CIRCLE BREAKDOWN
Belgium - Dir: Felix Van Groeningen
Felix Van Groeningen (THE MISFORTUNATES) returns with a fourth film establishing him as a masterful director; a non-linear, emotionally devastating story of two Flemish bluegrass musicians' love, as they drift apart when they learn their daughter is dying from leukemia. Winner of the Panorama Audience Award at the 2013 Berlin International Film Festival as well as awards for Best Screenplay and Best Actress in a Narrative Feature Film at the 2013 Tribeca Film Festival. Canadian Premiere.
[7]
THE DEAD EXPERIMENT
Canada - Dir: Anthony Dixon
At once horrific and cerebral, this remarkable independent Canadian production situates itself somewhere between RE-ANIMATOR and PRIMER, fusing wild scientific theories with a morbid tale and sustained drama for an impact that is wholly unique and satisfying.
[8]
THE DIRTIES
Canada - Dir: Matt Johnson
An astonishing, illuminating, and surprisingly funny film, THE DIRTIES takes on the mortifying topic of high school shootings with an insight and wit that will leave you slack-jawed. And deeply haunted. Winner of numerous awards, including two at this year's Slamdance. Quebec Premiere. Hosted by Director / Actor / Co-Writer Matt Johnson, Co-Writer Josh Boles and Actors Owen Williams and Krista Madison.
[9]
THE DEMON'S ROOK
USA - Dir: James Sizemore
A micro-budget, monsterific orgy of grue that can only be described as RETURN OF THE LIVING DEAD by way of Jodorowsky with a touch of THE NEVERENDING STORY, shot in Georgia with a nearly all-amateur team, boatloads of heart and a horde of DIY prosthetic creatures. This film is F-U-N. Co-executive produced by celebrated Tiff programmer Colin Geddes and Toronto Film Scene / Exclaim! film critic Katarina Gligorijevic. World Premiere. Hosted by Director/ Actor / Co-Writer James Sizemore and his übergang of DIY magicians and maniacs!

[10]
HELLO, MY DOLLY GIRLFRIEND
Japan - Dir.: Takashi Ishii
A man believes he's found redemption in a mysterious female mannequin that has come to life. Eroticism, perversity and deviant poetry collide in the latest from Takashi Ishii, an auteur who brought so much to Fantasia's history with such major work as FREEZE ME and GONIN. International Premiere.
[11]
HOW TO USE GUYS WITH SECRET TIPS
South Korea - Dir.: Lee Wonsuk
A young woman toiling in an obnoxiously sexist workplace comes across a VHS tape with advice on how to manipulate men in this uproarious romantic comedy which turns the gulf between men and women into a faultline through your funnybone. Winner of an audience award at the most recent Udine Far East Film Festival. Canadian Premiere.
[12]
I'LL GIVE IT MY ALL… TOMORROW
Japan - Dir.: Yuichi Fukuda
A single dad in the grip of midlife crisis quits his stable job to pursue a career as a manga artist. Loaded with imagination, this funny, touching tribute to putting things off goes far beyond sitcom silliness with an array of unforgettable characters. International Premiere.
[13]
MACHI ACTION
Taiwan - Dir.: Jeff Chang
This clever, racy and yet very humane Taiwanese comedy takes aim at the over-the-top tropes and antics of "tokusatsu" (giant monsters and masked space heroes) TV and at the absurd ups and downs of a performing artist's life. Fresh from stomping all opponents at the Taiwanese box office, MACHI ACTION begins its quest for North American domination at Fantasia. North American Premiere.
[14]
MISSIONARY
USA - Dir: Anthony DiBlasi
The director of DREAD and CASSADAGA is back with a mean, lean, character-driven thriller of exceptional impact. Playing on the inherent fear that many people have of strangers, their possible delusions and perhaps worse, their bubbling insanity, MISSIONARY also looks at the figure of the man of faith as complex and unpredictable, while also exploring the duplicitous nature that is easily attributed to missionaries of all ilk. Stars Dawn Olivieri, Mitch Ryan and Kip Pardue and J LaRose. World Premiere. Hosted by Director Anthony DiBlasi.
[15]
OXV: THE MANUAL
UK-Australia - Dir: Darren Paul Fisher
One of 2013's most minblowing discoveries, OXV: THE MANUAL is an endlessly imaginative "scientific-philosophical romance" that plays like the mutant offspring of Michel Gondry, Neil Gaiman, Terry Gilliam and Shane Carruth – yes, really. One of those little miracles that only independent cinema can produce, this is a resoundingly original piece of work that will have you smiling for weeks. World Premiere. Hosted by Writer / Director Darren Paul Fisher.
[16]
PLUS ONE @ +1
USA - Dir: Dennis Iliadis
Teens at a wild house party quickly catch on that all isn't right, as doubles of themselves and everyone else attending are popping up and reliving the evening, just about 45 minutes prior. With each blackout of lights, the doubles catch up a little more in time. An entertainingly inventive and clever slice of high energy teen oblivion from the director of the LAST HOUSE ON THE LEFT remake. Official Selection: SXSW. Canadian Premiere.
[17]
THE RESURECTION OF A BASTARD
Netherlands - Dir: Guido van Driel
Riveting with its innovative cinematic style, doused in outrageous bursts of wicked carnage, and topped off with a smattering of shadowy Lynchian humour, THE RESURRECTION OF A BASTARD is a deliciously oddball investigation of the mystery of life, and all the violent possibilities it has to offer. A blissful cinematic experience that represents the current renaissance in Dutch genre filmmaking. Stars Yorick van Wagenigen (THE GIRL WITH THE DRAGON TATOO). Opening film of the 2013 Rotterdam International Film Festival. International Premiere.
[18]
SAVING GENERAL YANG
Hong Kong - Dir.: Ronny Yu
It is up to General Yang's seven sons — each a master of his own kung fu discipline — to rescue him from behind enemy lines. Ronny Yu (FEARLESS, THE BRIDE WITH WHITE HAIR, BRIDE OF CHUCKY) revisits anew the oft-told tale of the Yang clan, legends of Chinese martial arts literature and film. Official Selection: Hong Kong International Film Festival 2013. North American Premiere.
[19]
SECRETLY GREATLY
South Korea - Dir.: Jang Cheol-soo
A North Korean spy is sent south, where he must blend into a town's community… as the village idiot. This punchy action-comedy broke box-office records on its home turf. From the director of BEDEVILLED. Official Selection: New York Asian Film Festival 2013. Canadian Premiere.
[20]
SWEETWATER
USA - Dirs: Logan Miller, Noah Miller
Ed Harris, January Jones, and Eduardo Noriega star in one of the most eccentric and surprising Westerns to storm cinematic saloons in some time, bursting with tension, violence and theatricality, owing as much to Toshiya Fujita and LADY SNOWBLOOD as it does to Ford and Leone. Harris delivers the single most outlandish performance of his career. Official Selection: Sundance 2013. Canadian Premiere
[21]
UZUMASA JACOPETTI
Japan - Dir.: Moriro Miyamoto
Miike meets Jeunet as a father's one-track-minded quest for his family's happiness warps into murderous, absurdist carnage; a uniquely mesmerizing, magical, magnetic mind-melt of a movie from mysterious Kyoto filmmaker Moriro Miyamoto, heralding the return of true underground Japanese cinema. North American Premiere.
FULL LIST:
http://bloody-disgusting.com/news/3241914/fantasia-13-curse-of-cucky-vhs2-frankensteins-army-hell-baby-and-raze-round-out-fest/
+++++++++++++++++++++++++++++++++++++++++++++++
Popular
Broadway
, Hollywood and GLEE star Lea Michele is setting her sights on a new film comedy role according to a casting notice that has recently been posted - with a potentially pitch perfect co-star, Skylar Astin.
According to the notice, Michele is set to appear in the currently-filming FLOCK OF DUDES, billed "a female HANGOVER" co-starring Ray Liotta, Bryan Greenberg, Hilary Duff, and more, also featuring fellow triple-threat, PITCH PERFECT standout Skylar Astin.
Of note, Michele and Astin previously appeared together in SPRING AWAKENING on
Broadway
.
The official casting notice is as follows: "SAG COMEDY FILM - Think " HANGOVER" titled "Flock of Dudes".
Featuring RAY LIOTTA (Good Fellas, Identity, Hannibal), BRYAN GREENBERG (Friends with Benefits, Bride Wars, One Tree Hill), HILARY DUFF (A Cinderella Story, Cheaper by the Dozen, The Lizzie Mcguire Movie), SKYLAR ASTIN (Pitch Perfect, 21-and-Over, Wreck It Ralph), LEA MICHELE (Glee, New Year's Eve, Legends of Oz), HANNAH SIMONE (New Girl, 1600 Penn), ERIC ANDRE (The Intership, The Invention Of Lying), Chris D'Elia (Whitney, Celeste and Jesse forever)
Seeking UNION and NON-UNION men and women ages 21 to 45. Looking for
people to create movement and atmosphere for the leads.
Needing people to portray wedding guests, bar patrons, beach goers, servers, maids,
musicians, bartenders etc. Filming now until the end of July.
Must have reliable transportation - filming in Redondo Beach, Whittier, Hollywood and
other various locations throughout Los Angeles - Must have proper ID and be legal to
work in the United States
*Especially looking for Sag members between the ages of 20-30. May bring headshot and resume between 1:30pm-2:30pm for submission.
Casting Tue. 7/2 and Wed. 7/3
Call 323-468-1125 to be Considered"
Check out the original Craigslist casting notice
here
.
So, are you ready to see these stars of GLEE and PITCH PERFECT share the silver screen in this new
comedy
?
* Like so many actresses from Catholic-Jewish background, nudity shouldn't be an issue. The mixed religious background cancels out body insecurities in positive way. Potent combo. Jennifer Connelly and Amanda Peet are few of the examples I can recall right now. 27-years old Lea is a major poser in a very cute way. Already gone topless on-stage. It just matter of time before she takes it off again and I feel this comedy could provide the platform. Double delight if Skylar joins her in nudity fiesta.
+++++++++++++++++++++++++++++++++++++++++++++++
Amazon Studios Options Jill Soloway Half-Hour Dramedy
* So Amazon is fine-tuning their original content to appeal to mature crowd. Previously balking at going full-throttle into R-rated land with an eye on nudity, Amazon realized there is a huge market for salaciously-themed drama about dysfunctional family and nobody does it better than Jill at the moment. Just like HBO in their early years of original content for mainstream viewers, Amazon and to a lesser degree Netflix are being quite restrained with the adult content.
+++++++++++++++++++++++++++++++++++++++++++++
Orange Is The New Black Review: Time Behind Bars Shouldn't Be This Fun
Chris Jancelewicz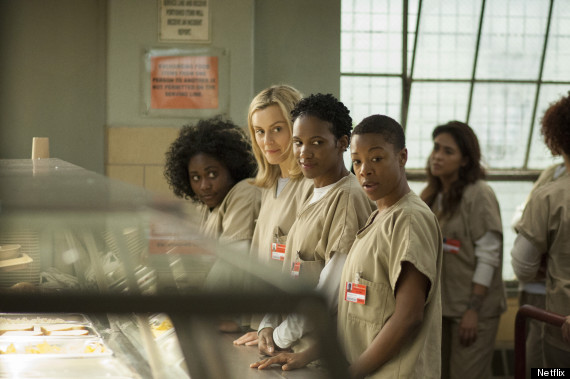 We've seen an increase in strong female characters on TV (at least, on non-network TV), and on the upcoming Netflix original series
Orange Is The New Black
, we've reached some sort of pinnacle. Not only is the cast almost entirely comprised of women playing interesting, distinct roles, but most of them aren't white. Yes, the main character, Piper (played magnificently by
Taylor Schilling
), is white, but surrounding her is a glorious phalanx of colour.
A lot of people will moan that it takes place in prison, and of
course
that's the only place where we'll see minority women in powerful, present roles. But before you lambast the show and dismiss it entirely, let's take a look at a couple facts: a) it's based on
a book by Piper Kerman
, a real-life account -- so even if the characters are embellished a little, it must be founded on some real truths, and b) while the number of women incarcerated is relatively low (compared to the male population), of all women sent to prison, the number of African-American and Hispanic women is disproportionately large.
African-American women are three times more likely to be incarcerated, while Hispanic women are 69 times more likely
. So there is definitely some truth to this fish-out-of-water tale; it's not just a transparent vehicle for a white person to experience non-white culture, as I'm sure some critics will accuse the show of.
OITNB
is also addictive. Creator
Jenji Kohan
(
Weeds
) has managed to craft a show built on solid misfit appeal. In the first six episodes (all I've seen), we meet Piper, a neurotic, somewhat naive woman unsure of her life direction, Galina "Red" Reznikov (
Kate Mulgrew
), the hard-as-nails prison chef with a sad backstory, Nicky Nichols (
Natasha Lyonne
), an ex-druggie lesbian, Alex Vause (
Laura Prepon
), a charismatic former drug runner, Sophia Burset (
Laverne Cox
), a post-op male-to-female transgender woman, "Crazy Eyes" (Uzo Aduba), who's ... well ... crazy, and Dayanara Diaz (Dascha Polanco), a young woman stuck in jail with her ice-cold mother. Remember when
Weeds
first started out and you couldn't get enough? Fantastically written characters, interesting storylines, events that, at times, left your heart pounding?
OITNB
has that same hook, and with the exception of a few faults, is the kind of show that Netflix binge-watchers will love.
Character-driven shows are always a joy to watch, especially as their individual storylines continue to intersect and intertwine. There's no overt "life lessons" in
OITNB
, but it does succeed in making us, the unimprisoned, feel stupid about our petty little problems. The visits from the outside (from Piper's fiance -- played by
Jason Biggs
-- and her sister and mother) are entertaining for that precise reason; when Biggs complains about having to consistently masturbate in his fiance's absence, Piper retorts: "Yes, I see how difficult this is for
you
." It puts things in perspective, in a humorous way, when Piper has to defecate in front of all the other inmates, since there are no doors on the washroom stalls (except for one, which is nearly impossible to access. You'll see why.).
I'm a big fan of Schilling in the title role. Relatively unknown save for a few movie parts, it's good to have a fresh face in the lead. She grew on me rather quickly; at first, I felt she was a bit of a limp rag, cluelessly wandering through life, but then, through various flashbacks, her character became easy to understand. We've all been there: 20 years old and stupid, wanting to experience the world but not knowing how to do it. Piper is just one of the unlucky people who made a bad choice that comes back to haunt her. (Full disclosure: I haven't read the book yet, but I plan to!) Schilling's deadpan expressions and snap comedic timing help us empathize and grow to love her.
Other casting choices are great, too. Long-absent (or at least it feels that way) Natasha Lyonne resurfaces in fine form, playing the troubled girl role to a tee. Prepon excels as the bad girl influence, and it's nice to see her as something other than Donna on
That 70's Show
. She works better in a dramatic/semi-comedic environment, in my opinion. Trekkies will be pleased to see Mulgrew as a Russian chef instead of a
Trek
captain, even though the forced accent is very obviously fake at certain moments. Transgender actor Laverne Cox is an easy favourite, with her bitchy one-liners and no-nonsense persona. A huge standout for me is Aduba as "Crazy Eyes," whose name is indicative of her character. Girl is crazy, and Aduba is genuinely frightening in the role. You can't tell if she's harmless or secretly plotting Piper's death. Guess we'll find out!
Taking place in women's prison, obviously there is a lot of lesbianism, and OITNB doesn't shy away from it. While some of the scenes featuring cunnilingus are laughable (I don't think the vagina is located at mid-thigh), you have to commend the show for pushing the envelope. It's not the kind of television where sex is alluded to -- it's right there for all to see. Sadly, I'm certain that this up-front approach will probably turn a lot of viewers off (homophobes and prudes, I'm talking to you). What's even sadder is the fact that, with this cast of almost all women, a lot of men won't be giving this show a chance. It's a shame, especially considering the many different kinds of women we get to watch. These aren't caricatures, they're real. They may, at times, be a little one-note and trope-y, but I would rather have that any day over yet another show about vacuous morons traipsing around their California mansions.
The lovely little backstories peppered throughout the main storyline provide great exposition, so we don't have to suffer through long explanations. They also break us away from the prison walls, which prevents any monotony or plot claustrophobia from setting in. Like a collection of bizarre vignettes,
OITNB
is a glimpse into an overlooked world that we would never get a chance to see otherwise. Funny and dramatic all at once, it's not surprising this show was
renewed for a second season before it even premiered
.
Since the hyper-realism of
Oz
, I never thought I'd be able to stomach a TV show based in prison again.
OITNB
takes the harsh reality and makes it palatable, and Netflix deserves kudos for eagerly putting this out there. Kerman, who actually lived through the experience, also deserves a thank you for sharing with us. You can't make this stuff up.
Orange Is The New Black premieres on Netflix on July 11.
* Sounds like OITNB going to be one of the shows of the year. Make sure to catch it, guys.
+++++++++++++++++++++++++++++++++++++++++++++
Amber Heard

: Actress Plays 'Sexually Charged Games' with a Woman [VIDEO], Stars in Film For Vs. Magazine [PHOTOS]
Looks likes Johnny Depp's girlfriend Amber Heard is exploring her bisexual ways once again, as the actress appears to have some fun with another woman in a new fashion video for Vs. Magazine(Photo : Facebook.Vs Magazine)
Looks likes Johnny Depp's girlfriend Amber Heard is exploring her bisexual ways once again, as the actress appears to have some fun with another woman in a new fashion video for
Vs. Magazine
.
In the clip the 27-year-old "Rum Diary" star is seen playing "sexually charged games" with a blonde-haired look-a-like which is intended to represent her alter-ego, according to the
Daily Mail
.
The actress looked gorgeous as she slipped into sexy lingerie that ranged from Agent Provocateur, Emilio Pucci, Yves Saint Laurent, and Marc Jacobs.
The short film was shot by legendary photographer and film director Ellen von Unwerth, who specializes in "erotic femininity." Her goal was to have Heard and her co-star portray, "naughty twin sisters in good and bad times."
[To see photos of Amber Heard from the film click
HERE
]
The short film titled "Amber vs Amber" starts in color and shows Depp's girlfriend relaxing on a sofa with a diary in her hand.
Vibe Dabelsteen, who is the
Vs. Magazine's
fashion director revealed to the
Daily Mail
that the scene is one of reflecting, "'This gets her thinking back on her childhood."
The film transitions into black and white as the actress is seen cradling a broken doll and then beings to seductively play fight with her "twin sister."
"It's kind of sexually charged games, but innocent at the same time," said Ms Dabelsteen.
E! Online
reported that Heard was drawn to this particular shoot because it was different than the typical straightforward smile-and-look-pretty role she usually takes on.
"She said, "There just aren't many complex parts...I've played the girlfriend many times before."
The actress continued to say, "At this point, I think I'm done with that."
After all the foreplay and kinky whippings were over, in the end the film returns to color and the actress is taken back to reality where she is covered up a more modest outfit. She the proceeds to take off her reading glasses and lies down seemingly satisfied.
For more Amber Heard News click
HERE
.
+++++++++++++++++++++++++++++++++++++++++++++
'
50 Shades of Grey

' Movie Cast: '30 Rock' Star

Katrina Bowden

Wants To Play Bombshell Kate Kavanagh
Jordache commercial featuring Katrina Bowden
from
Nigel Barker
+++++++++++++++++++++++++++++++++++++++++++++
Call the Midwife
star
Helen George
, who plays nurse Trixie, says she loves her job but wouldn't be afraid to do something different – including getting naked for
Game of Thrones
.
"I'd like to do something contemporary, or
Game of Thrones
– I'm just going to put that out there, I wouldn't mind getting naked for
Game of Thrones
, that's fine," George told the Belfast Telegraph.
While her midwife character is certainly glam, this would be a bit of a shock to viewers, who are used to seeing her buttoned up nicely in the 1950's
drama
.
But George says she's even tried to add a bit of extra
drama
to her
Call the Midwife
role. George asked to do her own stunt work when Trixie climbed up the side of a ship in the show, but producers put a stop to it.
"I had a really good stunt double in a really good wig – it fooled my husband, he didn't realise it wasn't me," George joked.
If George doesn't get the chance to try her hand at a bit of nudity in GoT then it looks like we may see her in something more action-based. "I really want to learn to kick-box", she said. Nudity, kick-boxing, stunts… phew. We don't know about George, but we need a lie down.
Helen's co-star

Jessica Raine

in 'Elsewhere'
from
Mathy and Fran
Two 'lovers on the run' head into the middle of nowhere, armed only with strange trinkets and a silver boombox.
A short film by Mathy and Fran, starring Aneurin Barnard and Jessica Raine. Featuring music by Kurt Vile, Ariel Pink's Haunted Graffiti, High Places and Lucky Dragons.
Supported by Film London, UK Film Council and the British Council.
+++++++++++++++++++++++++++++++++++++++++++++
Originally titled Rush but changed to Ambushed in order to avoid clashing with Ron Howard's Formula One flick of same name (with equally high ratio of naked girls).
The movie, said to be in the tradition of "To Live and Die in L.A.", we're told is a sexy, action-packed crime-thriller in which the people and places of Los Angeles are as much a focus of the film as the action sequences will be.
The original premise tells the story of two low level drug dealers who get rid o their middleman in a bid for greatness. Now, they must run from a vengeful crime boss, a crooked cop and the DEA agent who is hunting them all.

In the frenetic underbelly of Los Angeles, Agent Maxwell closes in on an international cocaine smuggling operation run by criminal mastermind Vincent Camastra. When Agent Beverly Royce (Carly Pope) goes undercover with the drug dealers and finds herself deeper then she can handle - the case becomes personal for Maxwell who has to combat ruthless killers and dirty cops in an all-out action filled finale to bring the criminals to justice.
The first half of the movie should be filled with boobies before action takes over in the second act.
Carly goes undercover as a hooker(stripper?) and befriends Susie and Holly characters. There should be topless nudity from Carly and Holly. Susie is either a stripper or a hooker.
Got this feeling there's going to be wall to wall nude fest from a game cast.
Posted earlier about possible nude debuts by Holly Lynch and my main interest Susie Abromeit.
Carly Pope, Susie and Holly became close during the shoot. The three girls bonded over shared nudity?
Holly Lynch and Susie Abromeit
Susie Abromeit is much harder to predict. What I can go with is that she been struggling in recent years to make any significant career progress and could have decided to broaden her options by including nudity in her resume. Susie is 31-years old this year, was junior tennis player in Florida and supposed to be book-smart or something. Natural tits and blessed with a fabulous figure, Floridian-based babe was (unconfirmed) an exotic dancer and a nude model during her first sojourn to L.A while waiting for her first break. She is also into rap stars....and was at groupie phase when she met 50-Cents.
Carly has done a nude scene before and she is reportedly naked (love scene) in upcoming This Last Lonely Place.
This will be 26-years old Holly first nudity on-screen if her love scene with Randy includes T-and-A. A model before turning to acting craft nearly a decade ago. This is her second movie with the director Giorgio Serafini. Similarly to Susie, Holly has found it hard to stamp her mark in Hollywood. We have to see if showing her tits will give her the confidence and renewed vigor to go for more challenging roles.
There are couple of foreigners in the cast. Skin show candidates Dutch actress Eline Van der Velden playing a prostitute and Venezuelan hottie child actress-turn-dancer-actress Cinthya Bornacelli. Cinthya is likely doing a stripper role.
+++++++++++++++++++++++++++++++++++++++++++++
27-years old Canadian actress Leah Renee [Cudmore] first nude scene (very brief breasts) in Stag (2013)

Leah Renee Cudmore (born October 1, 1985), often credited as Leah Cudmore or Leah Renee, is a Canadian actress and singer.
She has had recurring roles in television series including MVP, Runaway and Blue Mountain State. As a voice actor she has performed in series including Franklin and Growing Up Creepie. In 2011 she acquired notoriety co-starring "Bunny Alice" in the NBC series The Playboy Club.She currently stars as Maggie Bronson on the Canadian sitcom Satisfaction.
As a singer, in February 2009 she released her first single, "iBF (Imaginary Boyfriend)". Some months later, she also released her debut CD, Storybook, composed of eleven pieces, her first single included. She co-wrote all songs of her first album.
LEAH RENEE: IBF (IMAGINARY BOYFRIEND) W/ STORYBOOK
LEAH RENEE - IBF
LEAH RENEE - INSANITY
+++++++++++++++++++++++++++++++++++++++++++++