Bitten
, a TV adaptation of the first book in
Canadian
Author Kelley Armstrong's
contemporary fantasy series
Women of the Otherworld
.
Bitten
started out as a solo, one-time-show book, but with the positive feedback it received, Armstrong added a second story to her supernatural world. And a third, and a fourth... And on it went from there, ending with the aptly named Thirteen, the 13th and final book in the Otherworld series. As the last pages of Thirteen were being turned, rumours of
Bitten
becoming a show had started. On August 23rd, 2012 Space announced that thirteen 60 minute episodes of the show had been ordered.
While fans sat tight for almost a year waiting for production to start, knowing it was scheduled for the spring of 2013, they would make casting predictions and fan art all over social networks like
Tumblr
,
Deviant Art
,
Facebook
and
Twitter
. In early March at Toronto ComiCon, it was announced that Canadian actress Laura Vandervoort (Smallville, Ted) had been cast as
Bitten
's strong and independent protagonist Elena Michaels, the world's only female werewolf. Shortly after, additional casting updates were released for the show's male leads with
Greg Bryk
(
A History Of Violence, Rookie Blue
) as Pack Alpha Jeremy Danvers and Greyston Holt
(Alcatraz, Durham County
) as Clayton Danvers, Elena's ex-fiancé and Jeremy's second-in-command.
Paul Greene
(
The Client List, Wicked Wicked Games
) is to play Torontonian Philip McAdams, an ad exec and Elena's current beau. Yes, this is a show with werewolves, romance (a possible love triangle?) and action. When you put it that way, it sounds like something a bit similar to Twilight - but for those who aren't already a fan of the series, this summary should clear up any misunderstood similarities between the two:
SUMMARY
A foster child, Elena thought she finally found her "happily ever after" with her new love Clayton, but with one small bite, her life was changed forever and she was forced to survive life with the Pack as a werewolf. Years later, Elena has found refuge in Toronto, working as a photographer and dating a new man. But when bodies turn up in the backwoods of Stonehaven, the rural mansion that has served as a werewolf sanctuary for generations, the perfect life Elena has constructed begins to crumble. With the Pack threatened by an unknown predator, they turn to Elena for help. Caught between two worlds and two loves, Elena returns to Stonehaven out of duty, but once back in the fold she realizes that when push comes to shove, like any true alpha female, she'll stop at nothing to defend her family.
Shooting began last month in studio and on location in Hespeler (Cambridge), Toronto and Hamilton Ontario, and is scheduled to finish sometime later on this summer, with a series premiere scheduled for January 2014. Fans aren't being told much in the early stages, other than the occasional twitter updates from the cast and crew. That all changed when Space released the
first official photos
from the set.
catching the eye of the actors themselves
! Although some fans are happy with the casting, most die-hard Otherworlders are a bit disappointed to see that Jeremy is not the sharp-featured, half Japanese Alpha described in the book. Greg Bryk attempts to put their minds at ease with a
tweet
stating:
In the books #jeremydanvers is maternally Asian, in the series #Bitten I am not. The gentle spirit of the character is carefully honoured.
Okay, so seeing set photos are one thing, but
last Monday
SPACE's flagship show InnerSPACE took it even further when they went on set to Stonehaven to interview the main cast and executive producer J.B. Sugar, to talk about the set of Stonehaven, the characters and the
inevitable steamy sex scenes the show is bound to have. (Although, we did suspect they would stay true to the book's graphic and intimate moments when Greyston Holt changed his twitter picture a couple of weeks ago).
As filming continues, fans patiently await any casting news for remaining werewolves Daniel Santos, Karl Marsten and Zachary Cain, assuming they will, in fact, be included in the TV adaptation - Although Greyston's
tweet from early this morning
certainly makes it sound promising that our trio of havoc-wreaking mutts will indeed be on our TV screens in January.
If you are as excited for
Bitten
as I am, keep checking back for new articles as there is bound to be more exciting news to come!
* wished that was Laura naked in the pic.
++++++++++++++++++++++++++++++++++++++++++++++++
Surprising Celebrity Cheerleaders
Credits:
coed.com
* Now that's a surprise. Moennig in a lesbian role. More likely to remove any unnecessary sexual tension between her and boss Ray from equation. It's recycled to death in too many series.
++++++++++++++++++++++++++++++++++++++++++++++++
* What a lame trailer. You know the movie will suck big time when there are lots of hugs involved. It's the same old crap. Mom is immature and teen daughter wise beyond her years. Why can't they do something totally different or think out of the box for that matter?
If I wrote and directed the movie....In this scenario I'm a billionaire (with film-making as a hobby) who forked out millions to entice both Claire Danes and Sarah Bolger into doing their first nude scenes:
The opening scene has Claire the mom bringing home a dude to indulge in some fiesta. The cam pans in as Claire and the guy strip each other naked, the duo grappling their way from the hallway to the bedroom before the cam moves away in uninterrupted shot to another room - slowly transposing over the locked door - to another couple in bed. Teen lovers. The lens centers home on Sarah astride her BF - naked and topless. She turns and looks straight at the cam but actually listening to her mom growing moans from another room. Resentment can be seen on those pretty face. We get to see the whole of Sarah upper torso - her small breasts drenched in sweat. Fades away to the next morning...........
Here is another clip of Sarah Bolger in a PG-13 love scene from the movie Crush.
++++++++++++++++++++++++++++++++++++++++++++++++
House Sitter

by Richard Kern
++++++++++++++++++++++++++++++++++++++++++++++++
++++++++++++++++++++++++++++++++++++++++++++++++
Love hurts for Ethan Hawke and Julie Delpy
The actors revisit their beloved characters Jesse and Celine in 'Before Midnight.'
NEW YORK — Sex scenes are strange and uncomfortable at the best of times, when it's two strangers groping and fondling on camera.
It doesn't get any easier when the staged intimacy takes place between friends who have known each other almost two decades, as is the case with Ethan Hawke and Julie Delpy.
"It makes it weirder. You feel a little bit like brother and sister," says Hawke, 42. "It's a strange thing to act with someone. I don't have to imagine what it was like when she was 23 and to be with her. I remember. We did kiss on the Ferris wheel in Vienna in 1994. We did do that! And a lot of the humor of the movies is built out of our humor, the way we like to tease each other."
The actors revisit the characters of Jesse and Celine, whom they first played in 1995's
Before Sunrise
and reprised in the sequel, 2004's
Before Sunset
, and the third installment of the series,
Before Midnight,
in select cities Friday. This time, the two are the parents of twin girls and are dealing with all the realities of a relationship that's stale and romantic and passionate and acrimonious and ardent all at the same time.
Filming the movie's pivotal love scene was an out-of-body experience for both actors, says Delpy, 43. "(I'm thinking), 'Ethan is touching me!' The good thing is that we love each other. It's not like, 'Ugh.' It's more like it's really uncomfortable. We have to disconnect ourselves entirely from who we are."
Yet when you're with them, what you feel is an authentic connection.
There's an ease, an unforced sense of comfort between Hawke and Delpy. He teases her about her foul mouth. She tells him how adorable his youngest child is. She likens her attention span to that of a cat, and he admonishes her to focus and pay attention. When, in the midst of a photo shoot, the photographer comments that the two seem to genuinely like each other as they banter and tease, Hawke retorts: "You should see us naked."
In fact, the two bare all emotionally — and, for Delpy in one extended scene, physically — in
Before Midnight.
As with the film's predecessors, Hawke and Delpy co-wrote the script with director Richard Linklater. And their efforts showcase what a real relationship looks like, full of wrinkles and jealousies and grudges and ill-timed arguments.
"I'm not scared of making my character unlikable, and Ethan is the same," Delpy says.
Her Celine is impetuous and at times irrational. Hawke's Jesse is self-absorbed and pedantic. And yet, together they create on-screen marital magic. Given the ardent, intricate wordplay between the two, it would be easy, but wrong, to simply think they're playing themselves. They're not. And it's a disservice to the intricate script to think that anything that's said is off the cuff. In fact, every single wanton, mean, loving, conflicted word Celine and Jesse utter is scripted.
Cautions Hawke: "This is not a portrait of me. It's their dynamic. Every couple has a dynamic."
The key to their appeal, Linklater says, is that they're almost like the rest of us.
"They are heightened normal. There's nothing extraordinary about them. They're not heroic," he says. "They are relatable. They don't feel like they're that far from yourself. They can put into words what all of us bumble through with in life. They're hyper-articulate."
In real life as well. The two admit to being leery of tinkering with the series and creating a third film that wouldn't be as timeless and loved as the first two. They started throwing around ideas a few years ago and, finally, during an intense 10-week period, sequestered themselves in Greece, where they wrote the script and shot the film in 15 days.
"It's been one of the great joys of my life to get to know them for 19 years. The people they were then was quite impressive to me. Both were kind of amazing. To see them grow and follow their careers — Ethan paints and writes novels and directs theater, and I see Julie, and she's getting a guitar lesson and, eight months later, is finishing an album with songs she wrote. They're such artists," Linklater says.
So much has changed since the two relative newcomers shot
Sunrise
in 1994. Los Angeles-based Delpy is the mom of Leo, 4, with film score composer Marc Streitenfeld. Hawke, who lives in New York, is married to his second wife, Ryan, and is the father of Indiana, 2, Clementine, 5, Levon, 11, and Maya, 15 (the last two from his first marriage to Uma Thurman). To both actors, their trilogy is something of an on-screen scrapbook.
"One of my favorite memories of my life is Julie and Rick picking me up from the airport in Austin. It was when the airport was tiny," Hawke says of shooting the first movie. "It felt like Austin was this remote little town. I walked out, and the first thing I said was, 'Let's go make a (expletive) movie.' And then we went and shot pool, and Julie was insanely competitive with me. She's so competitive. It was on."
They holed up in a motel and Linklater's office and developed the script. "We were younger then, so we had a lot to prove. Julie was 23, and she had already worked with (Jean-Luc) Godard and Volker Schlöndorff. This was an extremely intense young woman, and she was not overly impressed with me," Hawke says.
Not so, Delpy says. "I liked him. I'd seen
Reality Bites
and thought he was cute. I was not blasé or anything. Maybe my attitude seemed that way."
What goes through their minds when they see
Before Sunrise
?
"I think how much my son looks like me. Oh, my God, he's my spitting image," Delpy says. "I also think how miserable I was as a person. Young, suffering, every boyfriend that broke up with me. I was devastated for months and years. I was a mess."
"What went through my mind is how much the world has changed. That scene of Jesse and Celine in the listening booth and how romantic and old-fashioned that feels now," Hawke says.
And yes, they'd be open to doing a fourth one, if it made sense. For now, Hawke is busy with theater and plans to spend the summer with his kids, and Delpy just finished a French script. They talk and see each other when they can, but the camaraderie between them is real and, seemingly, enduring, despite the physical distance between them.
"There's a genuine affection there. It's legit. They're two very complex people, but the baseline of it all is that they have a real respect and love," Linklater says. "It's like a long-term relationship."
++++++++++++++++++++++++++++++++++++++++++++++++
from
Oliver Goodrum
Winner of Best Drama at Magnolia and Audience Choice at Bermuda. Nominated Best Short Film at Fingal and Official Selection at London, Brooklyn, Hoboken, Rochester and Emmentaler.
++++++++++++++++++++++++++++++++++++++++++++++++
Tumblr Is Full of Porn, Just as We Suspected
* The definition of 'porn' is quite broad among mainstream media. Nude models/modeling, NSFW clips from movies/shows and artsy pics are in danger being lumped together into that category.
++++++++++++++++++++++++++++++++++++++++++++++++
Mara Lopez

, Alex in a daring movie
(The Philippine Star)
Palitan.
Set in the gritty corners of Raon, Quiapo,
Palitan
shows that in desperate times, bargains are made in exchange for heavy sacrifices.
The leads are played by showbiz scions Mara Lopez and Alex Medina. Mara is the daughter of beauty queen-turned-actress Maria Isabel Lopez and a darling of local independent films. While Alex is the son of veteran actor Pen Medina and a mainstay of the top-rating ABS-CBN
teleserye Ina, Kapatid, Anak
where he plays the character of Diego.
The script of
Palitan
required both young performers to do sensitive scenes. "My character is my polar opposite. The film took a lot from me. It was truly the most challenging role I had to portray not just physically but emotionally," said Mara. "It was my first time to go bold or daring. And it was harder than I thought," Alex admitted. In spite of the challenges, both did extremely well in the film. Mara and Alex won Best Actress and Best Actor, respectively at the Cinema One Originals Film Festival 2012.
The story begins with Nestor (Alex) who is heavily in debt to his boss Ramiro (Mon Confiado), owner of an electronics shop. One of Ramiro's dangerous cravings is aimed at Nestor's young, lovely common-law wife, Luisa (Mara). The love-starved and porn-tired Ramiro proposes a deal with Nestor: Secretly shoot Luisa's naked body as she bathes and give the footage to him. If Nestor complies, his debt would supposedly disappear. Palitan is a film that pushes the characters into the limits of power play, love, lust, deceit, jealousy and pride.
Director Ato's treatment is fearless. He said, "I always dare myself to do new things every time I make a film. For Palitan, I sought to shoot the longest and most steamy bed scene that I could."
The Art Scene:

Mara Lopez talks about her nude scene
Desperate times call for desperate measures. But when a man who's heavy into debt is offered the prospect of writing out his dues in exchange for a heavy sacrifice, he gets himself into a bargain that tests his own limitations. Joining us on Mornings are independent filmmaker Director Ato Bautista and showbiz scion Mara Lopez to talk about the award-winning erotic psychological drama thriller "Palitan."
She's the daughter of famous beauty queen-actress Maria Isabel Lopez.
A student from De La Salle University.
But acting is her passion….
Now, her biggest acting break came via the movie "Palitan", one of the film entries in this coming Cinema One Originals Film Festival (though she has appeared in other indie film productions, we could say that her acting challenge in the movie "Palitan", tested her great passion for acting).
Her mom could have been so proud.
The daughter is now creating a name of her own-
MARA!
mara isabella studies her script lines in the movie "Palitan".
* Can't wait for the movie to come out on DVD. It's frankly amazing the Asians are now in forefront of staging realistic sex scenes. The ever reliable Koreans, the kinky Japanese, the indie world of Indian sub-continent, the perversity of Thais and raw passion of the Filipinos. There are signs Vietnam, in few years Singapore and perhaps China will join the burgeoning but still exclusive club.
++++++++++++++++++++++++++++++++++++++++++++++++
Lars von Trier's '

Nymphomaniac

' to feature 'groundbreaking' sex scenes
Lars von Trier
's
Nymphomaniac
project will reportedly feature "groundbreaking" sex scenes.
The upcoming two-part erotic film is to feature graphic sex scenes between cast members, producer Louise Vesth told
The Hollywood Reporter
.
However, the real hardcore scenes will be filmed using body doubles, who will then be combined with the stars' non-explicit acts using digital technology, she explained.
Charlotte Gainsbourg, Stellan Skarsgard, Shia LeBeouf, Uma Thurman, Willem Dafoe, Christian Slater and Jamie Bell are among the film's cast.
"We shot the actors pretending to have sex and then had the body doubles, who really did have sex, and in post we will digital-impose the two," Vesth said.
"So above the waist it will be the star and below the waist it will be the doubles."
The post-production work on the project is said to be the reason why it was not available to be screened at Cannes this week.
One distributor who saw early footage of the film described it as "groundbreaking...like nothing [they've] ever seen".
Vesth added that she hopes von Trier will end his self-imposed ban on promotion, following his infamous Nazi remarks two years ago.
"Lars has thrown everything in this one," she said. "It's about religion, about God, about philosophy. There's so much to talk about with this movie. I hope he changes his mind and starts giving interviews again."
The world premiere will be held in Copenhagen, Denmark this December.
++++++++++++++++++++++++++++++++++++++++++++++++
Mia Wasikowska and More Join David Cronenberg's 'Maps To The Stars,' Some Story Details Revealed
David Cronenberg
. Simply, with unique stories usually married with inventive visuals, the filmmaker makes the kinds of movies few get the chance to do in Hollywood and so it comes as no surprise that his upcoming "
Maps To The Stars
" is lining up talent left and right.The latest to come aboard on is
Mia Wasikowska
("
Stoker
," "
Lawless
," "
The Kids Are All Right
") with
Olivia Williams
(Miss Cross!) and
Evan Bird
(who him?) also signing up. They join
Robert Pattinson, Julianne Moore, John Cusack
and
Sarah Gadon
in the
Bruce Wagner
-penned movie that is both a skewering Hollywood and celebrity culture
and
a ghost story.
While plot details have pretty much been kept secret,
THR
does reveal that "Bird will play a troubled, drug-addicted child star, while Williams will play his manipulative mother, and Wasikowska his disfigured, schizophrenic, fame-obsessed sister." Drugs, disfigurement, manipulation? Yep, that's Cronenberg.
eOne
will distribute the film in the U.S., Canada, UK and Australia/New Zealand with the movie showing its wares at Cannes next week, where we presume more details will be revealed.
So we have Mia Wasikowska as Agatha, Olivia Williams as Cristina, Evan Bird as Benjie.
And just to recap, we already have………..
John Cusack as Sanford , Robert Pattinson as Jerome, Julianne Moore as Havana and Sarah Gadon as Clarice
++++++++++++++++++++++++++++++++++++++++++++++++
How to Star on a TV Show in a Social Media World
By Mark Peikert
++++++++++++++++++++++++++++++++++++++++++++++++
'

Dexter

' Season 8 Spoilers: Deborah To Use Drugs, Booze and Sex To Cope With LaGuerta's Death
Dexter
just around the corner, a brand new behind-the-scenes-video clip of its eighth season has now officially been released.
The upcoming installment kicks off roughly six months after Captain LaGuerta's (Lauren Velez) death, and the latest video footage gives loyalists an inside look into Season 8.
Although Dex (Michael C. Hall) shows no guilt over what's transpired, Deb (Jennifer Carpenter) takes it pretty bad, as she was the one who shot LaGuerta.
Primetime reported that Deb will resort to boozing, drugs and sex in order to cope with her pain.
In a voiceover, Dexter narrates the following message regarding his urges to kill again:
"Tonight's the night, and it's going to happen again, and again. It has to happen."
Hall spoke to the site about his initial take on the Dexter character and what his feelings were toward it.
"I decided it was a character unlike any I'd ever seen and I jumped at it. The final season is about a sense of legacy. It'll blow your mind," he explained.
"The season picks up about six months later. We find Dexter on the one hand telling himself that things are good, but there are a lot of problems," Hall adds.
Showtime's
Dexter
is set to make its return on Sunday, June 30 at 9/8 p.m. Central.
++++++++++++++++++++++++++++++++++++++++++++++++
* MEW possess a sexy sultry voice. The type that belongs in late 60's and early 70's jazzy breathy songs. Range is questionable though. Crack appears when she stretches a note. Make sure to listen twice and you're hooked.
Mary Elizabeth Winstead

: Got a Girl's 'You and Me' - Listen Now!
Check out this
first listen
of
Mary Elizabeth Winstead
belting out her latest song from
Got a Girl
titled
"You and Me (Board Mix)"
.
The 28-year-old actress paired with hip-hop producer
Dan the Automator
for their new endeavor, which they named
Got a Girl
, to record and release new music!
"So…in honor of our new twitter followers, we wrote and recorded a song last night especially for you. Coming imminently!" the
Got a Girl
Twitter
account updated just before releasing the song – check it out below!
WHAT DO YOU THINK
of Mary Elizabeth Winstead's new song "You and Me"???
++++++++++++++++++++++++++++++++++++++++++++++++
Eliza Cummings is a scarlet woman, in a film by Ruth Hogben and Katie Shillingford
++++++++++++++++++++++++++++++++++++++++++++++++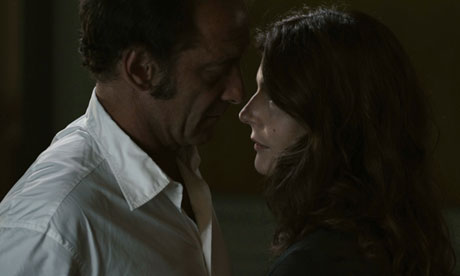 Vincent Lindon and Chiara Mastroianni in Les Salauds
Claire Denis
's pictures inhabit the eye of the storm: a hushed, watchful centre; raging passions round the rim. The French writer–director is the maestro of the elliptical edit, the words not said and the threat in the wings. At her best (on
Beau Travail
, say, or
35 Shots of Rum
), Denis is one of the most distinctive and challenging voices in contemporary cinema. At her worst, her excessive control tips into contrivance. Les Salauds (aka The Bastards) is not Denis at her best.
The mood of foreboding is established right away, as 80s electronica squalls on the soundtrack and Lola Creton picks her way, naked, through the dark streets of Paris.
The family factory is in crisis, the patriarch is dead and the finger of blame points at Edouard Laporte (Michel Subor), a sulphurous little businessman who resides nearby. But the way ahead is fraught with shadows, secrets and shifting sands. Students of Chekhov should also take note of the gun on the mantelpiece.
If there is such a thing as a hero in this murky, compromised world, it comes in the rumpled form of brother Marco (strongly played by Vincent Lindon), who quits his job on the oil tanker to keep tabs on Laporte. Marco keeps insisting that he would rather not get involved. But each time he says it, the sand sucks him down further. He's embroiled with the factory and he fears for his niece (Creton). Worst of all, he's involved with Mrs Laporte (
Chiara Mastroianni
), a trophy wife who appears to hate her husband almost as much as he does.
If all art is only ever about sex and death,
Claire Denis
' Un Certain Regard film "
The Bastards
" may be the most "artistic" one we've seen in Cannes to date, as it rolls around positively shamelessly in the musk of both. Or it may be a grubby little exercise in exploitation, depending on who you talk to.
The film opens with impressionistic glimpses, in that slow-slow-quick-quick-slow rhythm we're used to from Denis, of what we later piece together is the suicide of Jacques, father of Justine (Lola Creton, from "Something in the Air") and husband to bitter, recriminatory Sandra (Julie Bataille). Sandra's brother Marco (Vincent Lindon), who was formerly very close to Jacques, leaves the tanker on which he was captain and returns to exact revenge on the people he believes responsible for Justine's horrific sexual abuse, and therefore her self-harm and ultimately her father's suicide.
Part of his plan involves moving into the apartment above the ringleader, successful business Edouard Laporte (Michel Subor), where he strikes up an intense sexual relationship with Laporte's girlfriend, and the mother of his son, Joseph. To go any further would be to risk major spoilers for what happens later on, (or rather for the sense that later can be made of it all), but suffice to say there are revelations and car crashes and guns and a lot more sex and death, along with what are probably the most sinister corn cobs ever committed to film.
The women are shrewish, or weak and sexually manipulated too, meaning the film has more of a misanthropic than a misandrist slant, and that's before we even take on the troubling suggestion that a certain victim may have been complicit in her own violation. Ultimately, the incredibly steep downward trajectory of the storyline and the increasingly seedy revelations that mean our various sympathies for the various characters, one by one, drop like flies, leaving a film that, in contrast to the sometimes truthful despair of other Denis outings, instead feels a little like empty nihilism.
"The Bastards" is a strange and certainly not wholly successful hybrid -- there are tones and textures that remind us of everything from
Refn
(perhaps it's the blue lighting and the initially spartan synth score that later thrums into an insistent
Tindersticks
track that plays over the whole end portion), to
Jean Luc-Godard
, while the couple who run the "sex den" feel like characters straight out of a
David Lynch
movie, and some of the thriller-ish, generic elements feel ever so slightly, well,
Adrian Lyne
at times. And very few of the above are names we ever expected to reference in a Claire Denis review.
We're not in the "ban this sick filth" brigade, but from such a usually nuanced and thought-provoking auteur, it's hard not to see the film as a minor entry. "The Bastards" feels like what happens when an undeniably great filmmaker stoops to sensationalism -- it's a smarter, odder film than someone else would make with the same material, but it's still smart, odd sensationalism.
Claire Denis' The Bastards (Les Salaudes) may actually have a decent story, but she has muddled up the narrative to the point it's confusing as all hell. Even once the pieces start to come together, the film comes to a head-scratching conclusion of sex with corncobs and a close-up of a guy stroking his penis.
Let's begin with the plot details I gathered after the opening moments and see where we get...
It's raining very hard. A man has killed himself. A girl is walking naked in the streets. A man named Marco (
Vincent Lindon
) works aboard a container ship and receives a phone call with a family emergency and heads home immediately. Upon arrival he moves into an apartment without any furnishings. Here he makes eyes at the woman living downstairs and helps fix the chain on her son's bicycle.
Following the film's opening minutes, those were the things I knew. I don't know if Denis thought everything was all clear after that information was revealed, but as it turns out we are still missing a lot of important details that would help it all make a lot more sense. Let's take a look again with all the information in place.
The film begins with a man killing himself and a woman walking naked in the rain. Marco is called back to Paris by his sister, Sandra (Julie Bataille), because her husband (Laurent Grevill) -- whom Marco is good friends with -- has just commit suicide and her daughter, Justine (Lola Creton), has been admitted into a hospital as a victim of abuse and rape that has damaged her vagina to the point it may require surgery. Justine is also the woman we saw walking naked in the rain.
The woman Marco sees in his apartment turns out to be a woman by the name of Raphaëlle (
Chiara Mastroianni
), a single mother with a young son, and mistress to Edouard Laporte (
Michel Subor
), a man that contributed money to Sandra's family business and she is convinced he had something to do with her daughter's current state. Marco's goal is to get at Edouard through Raphaëlle.
Like I said, a lot of information is hidden from the audience for reasons entirely unknown to me. And the details mentioned above are just the beginning.
Walking out of the screening a couple critics I talked to actually thought Raphaëlle was
married
to Edouard, not his mistress. It took me forever to learn Marco was Sandra's brother and not her husband, or just a friend of her dead husband or both. It's never made clear he's her sister until they blatantly come out and say it. Even then, where is Marco's wife? We learn he has a daughter, but the rest is a mystery. It's also about 15 minutes into the movie before we learn who the naked girl walking in the middle of the street was and even further into the film before we learn Marco didn't just leave his job, he quit and is having to sell his property and car to make sure he has any money.
I know what you may be thinking, "But isn't a bit of ambiguity better? No one wants everything spelled out for them." Yes, but not when the film doesn't seem to be presenting these things as if there is any question. All throughout I felt I just wasn't getting it, and who knows, maybe I wasn't, though some others appeared to be just as confused as I was.
It would appear Denis meant the film be revealed in layers, but I can't believe she meant for it to be this confusing. Granted, the answers to some of the questions I ask above may be in the film and I simply missed them, but all I know is that I kept running through one scenario after another, trying to figure who everyone was and in what capacity they were related to the people in the film and the story altogether. I walked away with the impression Denis forgot the audience didn't know these people the way she and co-writer
Jean-Pol Fargeau
did and didn't realize the details she was gave us only confused matters rather than actually helped.
Then we get to scenes with bloody corncobs covered in tons of pubic hair and semen-stained, red oval couches with camera hookups in the ceiling. Yet, as more details are revealed, more go unanswered.
As the credits started to roll, the loudest question I had was, "What the hell was that all about?" It's one thing to play tricks with your narrative, but Denis has got to know this film just doesn't add up as we're left to walk out of the theater after watching a homemade rape film and as another piece of electronica plays over the credits.
Visually, the film is quite dark. Denis and her DP,
Agnes Godard
, shot in digital and definitely went for a darker, more atmospheric look and the score from Tindersticks started to grate on me as one scene bleeds into another about midway through the film as the sound of a ticking clock played underneath a throbbing single electric tone, which could be heard through much of the film.
Like I said, this story may have worked had it not been so cluttered up into meaningless mess of mumbo-jumbo. The performances are solid, Lindon and Mastroianni are particularly impressive and I have nothing at all wrong with the dark material, but the way it was presented just all seemed so meaningless that it felt like a film that was presented incomplete.
Chloe Robichaud
's debut dramedy,
Sarah Prefers to Run
(Sarah prefere la course)
.
Although the concept is intriguing on paper, this tragic-comic tale of a track star's arduous sexual awakening feels too thin both narratively and cinematically
, struggling with a belabored storyline as it heads towards the final lap. Still, the film dishes out a few memorably bittersweet moments, and lead
Sophie Desmarais
' well-tuned performance is definitely worth catching. Fests and small-scale theatrical should follow a Cannes Un Certain Regard premiere.
"I want to run," is what 20-year-old Sarah (Desmarais) says to everyone, including her highly doubtful mom (
Helene Florent
), when they ask her what she wants out of life. And so, after excelling on her Quebec City track squad, Sarah decides to pack up her stuff and move, along with local boy Antoine (
Jean-Sebastien Courchesne
), to Montreal, where she'll be training for the big leagues as a member of the McGill Athletics Team.
If such a set-up seems like your typical triumph-over-tears sports story, Robichaud definitely has something else in mind, and once the two friends arrive in town, the story shifts to focus on Sarah's shaky personal life, including her burgeoning attraction to fellow teammate Zoey (
Genevieve Boivin-Roussy
). But that only happens after she and Antoine decide to get married for financial aid purposes—a decision that Sarah never takes seriously, while Antoine grows more and more attracted to his wife/roommate.
The film
was shown in the Un Certain Regard section of Cannes, which is part of the Official Selection but is a sidebar to the Official Competition.
Radio-Canada Television journalist Tanya Lapointe said that Sarah prefere la course "is a very nice film, well acted and smartly directed."
The film
, which opens in Quebec June 7, focuses on a young runner from Quebec City – played by Sophie Desmarais – who agrees to marry Antoine (Jean-Sébastien Courchesne) in order to be eligible for grants to pursue her love of running by joining the best university athletics club in the province.
Le Soleil's Moreault was not totally enthused in his review of the film.
Writes Moreault: "In terms of drama, the film suffers from the introverted personality of the main character. Sarah lives for the race, which is real obsession. It's difficult for the viewer to really get attached to this woman who turns out to be a veritable misanthrope."
But he goes on to praise Desmarais's performance, noting that "she does very well with a nearly silent role, conveying the anxiety and shyness of the character, mostly through her eyes."
++++++++++++++++++++++++++++++++++++++++++++++++
As the premiere date of True Blood's sixth season draws closer, you may find yourself wondering what the heck else could happen to these characters? It's getting to a 24-esque realm where you think, seriously, how many bad days can Jack Bauer have? So just to catch you up on all the ridiculousness that has transpired during the first five wonderful seasons, we're recapping the astounding journeys taken by nine main characters in a series called True Blood: Beginnings. Up next is Jessica Hamby, Bill Compton's vampire progeny.
Jessica first appeared midway through season 1, and she has since blossomed from an immature teenager to a sexy vamp vixen who frequently rocks naughty lingerie and goes after who and what she wants. But she wouldn't even be if not for Bill's actions at Fangtasia earlier in the season. He killed the vampire bartender Longshadow after he attacked Sookie because she discovered he was stealing from the bar. The punishment for staking a vampire is usually the true death, but Bill is instead sentenced to create another vampire, and Jessica 2.0 is born.
True Blood
season 6 premieres June 16 at 9 pm on HBO.
++++++++++++++++++++++++++++++++++++++++++++++++
Ahna O'Reilly has not one, but two projects at the Cannes Film Festival this year, and we sat down with the actress to talk about this extraordinary experience, the reception to her two movies, and what it was like to work with her
ex-boyfriend James Franco as a director
. First up for Ahna was
Fruitvale Station
, which was coming off huge Sundance success before subsequently being picked up by The Weinstein Company. Ahna spoked about reuniting with good friend Octavia Spencer for their surreal Cannes Palais moment. Ahna also revealed how much she doubted that
James Franco
actually wanted her to star in his adaptation of
As I Lay Dying
and discussed who, between the two of them, was more nervous for their big premiere. Check our chat, and keep your eye out for lots more from Ahna O'Reilly.
++++++++++++++++++++++++++++++++++++++++++++++++
STAY

[SHORT FILM]
Directed by: Justin Zuckerman
Written by: Justin Zuckerman, Chris Leary, Ryan Brown
++++++++++++++++++++++++++++++++++++++++++++++++
Shocking Details of Nairobi's Thriving Porn Industry
A top Anti-Banking Fraud Unit officer and a senior city cop have been linked to the thriving pornography business in Nairobi.
Police sources say the man based at the Central Bank of Kenya is a major investor in the sex sector while the security chief uses his extensive connections to offer protection. The revelations come as Kenya remains gripped by reports of alleged bestiality, which has since been denied, in Mombasa involving 11 young women purportedly at the behest of Swiss national Christoph Clement Weissenerider. In court, the women have been charged with prostitution while the foreigner is accused of luring them into it. The Twitter hash tag #PornDeDog, has been trending as Kenyans on social media express their wonder and wit.
Coast police have also alleged that the Swiss and a woman accomplice on the run have been running a similar dirty business in Nairobi, mostly to serve fee-paying foreign customers.
American pastor
The last time such an incident created so much public debate was in 2009 when Nairobi-based American pastor, Thomas Kevin Manton of Dominion International church, was accused of recording sexual encounters, purported to involve him and local girls, on DVD for commercial use. The man of God was however acquitted by chief magistrate Uniter Kidula a year later for lack of evidence. The American had pleaded his innocence, saying his accusers wanted to grab his wealth and bring down his ministry.
But as the current debate continues, our investigations indicate that a spacious cybercafe at a building near the junction of Tom Mboya and Ronald Ngala streets is a major hub for recruiting actors in pornographic videos. The facility is also used to edit and duplicate the dirty discs for mass distribution locally and internationally. Financiers, producers, marketers and actors usually meet there, but the shooting of the videos is done in multiple locations in the city centre and residential estates, mostly in the leafy surburbs.
The area of the CBD generally referred to as 'River Road' also hosts many smaller outlets for producing the videos. Indeed, it is no longer news that porn movies — many of them of poor quality — perhaps in the spirit of 'devolution', have for the last few years been produced in various local languages.
But there are others in the high-end market, who supply well-to-do local and international customers. A porn movie producer, who talked to us on condition of anonymity, said the CBK investigator recently paid Sh150,000 down payment for a new camera as demand has been rising. He reveals that in the last four months he has given the top cop Sh140,000 protection money, but he never regrets it.
"One thing I am sure of is that I can never be raided by the cops. As long as he is around, I am safe. The top cop never comes here, but we meet at a club in Westlands," says the producer.
He says those involved in the business need protection — which cascades to the vendors.
"No vendor will want to sell your wares if they are arrested," he says.
The producer, in his late 20s, is well groomed and drinks the finest whiskeys. He drives a modest Toyota Alex and intends to import a Mark II before the year ends. His closest friends do not know what he does for a living. They think he is in the ICT business.
"I am an IT graduate. I started shooting porn for fun in campus, and in 2010 I uploaded some videos online just out of mischief. That got me thinking, why can't I sell porn? It's a job like any other job, and when the money comes, the petrol station attendant will still fuel my car irrespective of how I made my money," he said.
Homosexual movies
The producer said apart from same-sex scenes, there is a high demand for homosexual movies, which sell at double the price (usually Sh1,000). He is, however, not aware of child pornography, which he said is highly secretive.
So lucrative is the illegal porn film industry that the producer said this year he has had to shift from the 'jua kali production' and invest in state-of-the-art equipment. He said the local industry has also attracted international talent with a German producer, based at Karen C, said to be the most prolific.
Our source broke down the cost of shooting a porn video. Crews that do not have cameras hire them at Sh7,000 per day and one has to buy tapes at Sh2,000 each. Lights are on average charged at Sh8,000 per day. The male actors are paid between Sh7,000 and Sh10,000 per scene, while the female actors are paid at least Sh5,000. Our source said the male actors are more difficult to find.
The producer we talked to said he makes 80 per cent of his sales online. He also has two websites and one blog where interested buyers send him money through mobile money transfer services. Delivery of the physical DVDs is done by a motorcycle rider while customers upcountry are sent their packages of pleasure through courier.
"I charge Sh500 for normal porn movies, but to have it delivered, you have to send an additional Sh200," he said.
Porn producers know each other and they usually avoid encroaching on each other's territory.
"I know about seven other people who do what we do, and we are all competing for the same market. Presently, I have two other producers who use my channels to sell their movies. They are mainly involved in the production and they don't want to get their hands dirty by engaging in marketing," he said, but claimed that over the years international porn film producers, mostly on tourist visas, have been making one-off visits to shoot for a few weeks.
On average, he makes up to Sh100,000, after production costs from sales of the movies. In fact, the producer said like a musician who earns royalty, his old movies continue to sustain his profits for years.
Our contacts also led us to some of the porn stars. One of them, nicknamed Karua, who operates in the city centre, has acted in two porn videos. Her housemate, a stripper, has also acted many blue movies.
"I was paid Sh10,000 to act with two men," she said, adding that she will not mind doing it again, but at a higher rate.
Karua said her stripper housemate was recruited by a white customer for a group sex movie at $200 (Sh16,600)
Weird sex acts
"When she came home with the money, the next time she was to go back to the
mzungu
, I asked if I could come and that was my first movie. Unfortunately, the
mzungu
was on a short visit and he went back to Europe. I don't know if he ever sold our videos," she said.
However, another prostitute in Westlands, who has acted in two porn movies, said some of their white customers have weird demands and usually ask to film sex acts. One of them was a few years ago known to hire prostitutes for his dog at a generous amount — as long as he filmed. Other than prostitutes, university students are also said to be some of the most willing actors of porn films.
As the ongoing case in Mombasa may reveal, Kenya's connection to the international porn market, be it online or the sale of DVDs offline, appears to be growing.
In August 2011, US authorities indicated that Kenyans were among those involved in an international child pornography syndicate that thrived on the sharing of images over an exclusive members-only internet facility, Dreamboard.
US authorities then described the year long Operation Dalego as one of their biggest moves against child pornography, but the encryption of the site made it impossible to identify all those involved. It is said members shared images of adults sexually abusing children — some of them children.
Nairobi police never opened their own investigations on the syndicate even though the then city police boss Anthony Kibuchi said in August 2011 alone they had arrested at least 10 people over involvement in pornography.
Meanwhile, the sale of Kenyan porn movies appears to have grown from the hawker hiding the discs under less sleazy flicks and showing them to customers selectively, to openly selling them abroad.
Don Ochieng, a Kenyan living in Stuttgart, Germany, said one can rent porn movies supposedly shot in Kenya from adult stores — which are legal in the country.
"Unlike other international blue movies, the camera work is poor and the lighting is bad, but I think people just want to watch what they call 'native porn'," he said, adding that producers giving directions to the actors can often be heard speaking in Kiswahili in the background.
Involvement in pornography or the handling of pornographic material is illegal in Kenya. But like prostitution, it continues to thrive.
City porn hotspots
However, in the wake of the Mombasa incident, whose connection to the capital have been established, city police have mapped out areas where pornographic activities take place. Our sources indicated that parts of the city centre, Westlands and Hurlingham, host the main spots. So serious is the situation that it came up at a recent security meeting convened by Governor Evans Kidero.
Police say they had information that prominent people frequented brothels where young girls are being exposed to sex, while others are involved in producing pornographic material for commercial use.
"We are organising with the City Inspectorate to raid those brothels. It is something we discussed last week with the Governor, who was concerned," said Nairobi police chief Benson Kibue.
Police believe some of the residential homes in high-end suburbs have been turned into brothels where unrestrained partying and pornography take place. An officer claimed they are unable to raid such homes for fear of being accused of trespass.
"You need to be armed with a search warrant, which is a tedious process. Unless residents protest, we have no business trying to interfere because you never know who is inside there," he added.
++++++++++++++++++++++++++++++++++++++++++++++++
Know why BCCI loves IPL so much even after the spot-fixing saga
IPL spot-fixing saga
have tumbled out of the closet - disgraced cricketer S. Sreesanth's laptop, to be precise. The Mumbai police have discovered photographs of models and aspiring actresses in the arrested cricketer's e-mails account. They were sent by a Bollywood casting director over the past few months.
The police
grilled the casting director who claimed that he had sent the photographs and profiles of the girls to Sreesanth for an ad film for the cricketer's Hyderabad-based company, S36.
The police, however, are not inclined to believe this story and are probing if the girls were used as conduit to lure players for spot-fixing. They are trying to verify if such e-mails containing photos of models were also sent to other cricketers.
The police are also set to question a Telugu film producer who is said to be Sreesanth's partner in the company.
Sources said a photograph of Sreesanth with bookie Jupiter was also saved in the laptop.
Mumbai's Joint Commissioner of Police (crime) Himanshu Roy said: "We have recorded the statement of the casting director who sent e-mails to Sreesanth. The Lokhandwala-based casting director had sent e-mails containing pictures of dozens of wannabe actors-models to Sreesanth."
According to a senior officer of the crime branch, the cricketer's laptop, seized from his hotel room earlier, revealed his e-mail interaction with the casting director.
During questioning, the casting director claimed the photographs were for the purpose of shortlisting the models for advertisements to promote Sreesanth's company.
The company manufactures products such as T-shirts, sports goods and mineral water. It is co-owned by Sreesanth and a well-known Hyderabad-based film producer," said an officer. "The director claimed that he came into contact with the tainted cricketer through the producer and spoke to him only once, on January 1, to wish him for the New Year," the officer added.
The Mumbai crime branch will now summon the film producer to question him on the casting director's claims.
However, many police officers are sceptical if this 'breakthrough' can establish the honeytrap angle in spot-fixing.
"Yes, there are photos of models on Sreesanth's laptop. But that is his life outside the cricket field. Until and unless we can establish a connection with fixing, this information will not be of any use in the larger investigation," said a senior officer, who did not want to be named.
The police on Monday also recorded the statement of the manager of Kerala-based Tamarind Tours and Travels Ltd, which had booked two rooms in a five-star hotel in the BKC area of Mumbai for Sreesanth and his bookie friend Jiju Janardhanan.
Sources said the bookings were made for three days on the instruction of Janardhanan. The total bill amounted to
Rs.
58,000. The police are yet to verify who paid the bill if it was cleared or whether it still awaiting clearance.
++++++++++++++++++++++++++++++++++++++++++++++++
WME Signs Actress
Alison Brie
Alison Brie
has signed with
WME
. She was at UTA. Brie currently juggles two series — she is a female lead on NBC's cult comedy
Community
, which recently was renewed for a fifth season, and recurs on AMC's Emmy-winning drama
Mad Men.
Additionally, Brie stars in the indie
Kings Of Summer
. She continues to be managed by Scott Fish at Velocity Entertainment Partners and repped by David Weber.
* Guess Alison is finally ready to be a leading lady. Good for her.
++++++++++++++++++++++++++++++++++++++++++++++++